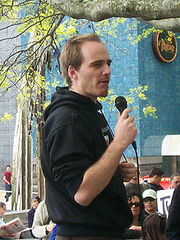 Simon Oosterman is a New Zealand political activist, trade unionist, and anarchist.He is best known for coordinating the Unite Union campaign Supersizemypay.com which targeted the fast food industry and contributed to the abolition of youth rates, a $12 minimum wage (among other results) and the world's first Starbucks strike, and for his involvement in the World Naked Bike Ride on which he was arrested for indecent exposure.
He currently works as a media liaison in Auckland for the National Distribution Union and the ShelfRespect.org supermarket pay campaign.
Ad blocker interference detected!
Wikia is a free-to-use site that makes money from advertising. We have a modified experience for viewers using ad blockers

Wikia is not accessible if you've made further modifications. Remove the custom ad blocker rule(s) and the page will load as expected.